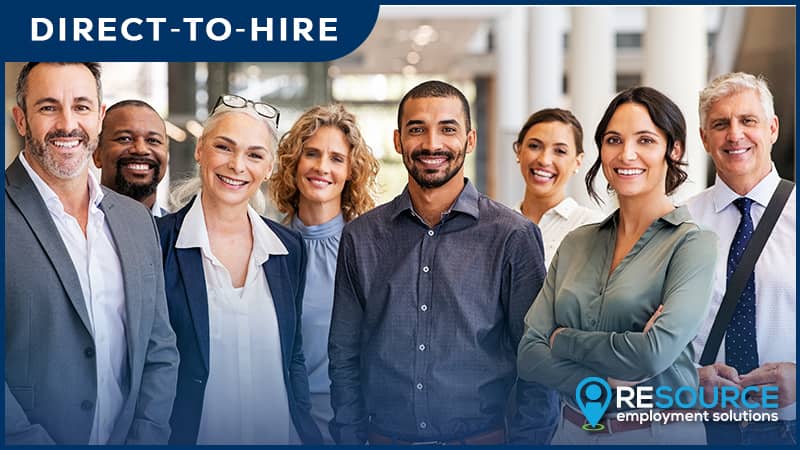 When you need to build a stable and reliable workforce to sustain your operations or support company growth, a direct hire staffing strategy might be the best solution. A direct hire strategy connects you with your industry's top talent to fill a permanent, fully-integrated role within your organization.
RES can customize this staffing solution by partnering with your HR or management team to handle the initial stages of recruiting and screening (after a targeted recruiting campaign, RES will deliver a short-list of qualified candidates for a final screening and interview process by your management team), or our dedicated industry recruiting teams can execute the entire staffing strategy from talent search, through comprehensive screening and compensation negotiations to deliver the ideal candidate to your organization, freeing up your team members to focus on more profitable tasks.
Why Choose A Direct Hire Solution?
Access Your Industry's Most Sought-After Talent.
Not always, but often your industry's top talent is seeking stable, full-time work. This caliber of employee is often focused on career progression and they favor positions that will allow them to develop and advance within an established organization.
Build A Stable Team.
By fully integrating new team members with a direct hire strategy, you will develop a robust and resilient team, foster loyalty, and cultivate a strong workplace culture with permanently committed employees.
Optimize Your Recruiting and On-Boarding Investment
Recruiting and onboarding are costly, especially with failed hires. Optimize your staffing investment with team members who are more inclined to remain for the long term.

Finding The Ideal Direct Hire Candidates
Leverage the expertise and experience of RES and streamline your recruiting process. In addition to accessing our robust network of skilled and qualified candidates, your business will benefit from our guidance as you build a permanent and stable workforce. Here is how we will help you find your ideal candidate.
Determine Your Staffing Needs.
After a thorough analysis of your current workforce, our dedicated team will devise a customized staffing solution to address gaps in skill and productivity and to streamline your operations. We can create strategies to be implemented immediately and strategies that support your goals for growth over the long term.
Recruiting and Screening.
RES will leverage our robust network of top national and global talent and our proprietary recruiting strategies to find the best candidates to fill the role. After identifying the best people for the job, we will execute our rigorous screening and interviewing process using advanced staffing solutions technologies to ensure that all education, experience, and references are verified. We can also implement customized screening processes based on your company's unique needs.
Offer Competitive Compensation.
Once a short list of qualified candidates is generated, we will work diligently on your behalf to design competitive and attractive compensation packages and negotiate the final direct-placement employment contract.
Employment Solutions For Jobseekers
Are you a job seeker looking for the next, best opportunity to grow your skill set and advance your career? Join Resource Employment Solutions' robust network of talent. We focus on matching job seekers and companies across a spectrum of compatibility including opportunities for growth, competitive compensation, mutual values, and aligned workplace cultures within a number of sectors.
Explore our current opportunities by clicking the button below or contact us to join our jobseeker roster. Your next career move is waiting for you.
Industries We Service
RES is committed to recruiting top talent to help companies bolster their organization with a resilient and adaptable workforce today and for the future. We deliver advanced, customized staffing strategies with temp-to-hire, direct hire, contract staffing, and project-based placements across a number of industry verticals. RES connects you with the employment resources you need to be competitive.
What Is The Difference Between Temp-To-Hire And Direct-To-Hire?
When it comes to finding the right talent for your company, there are several staffing solutions available. Two commonly used approaches are temp-to-hire and direct-to-hire. Understanding the differences between these two strategies is crucial for employers looking to make informed decisio
Our typical warranty for direct-hire placements is 30-90 days depending on your industry and recruiting needs.
We complete full employment history, education, and reference verifications standard with direct-hire placements. If you require background and/or drug screening, please discuss with your RES recruiting specialist.
Connecting Top Employers And Top Talent
Sustainable, productive, and adaptable workforces are catalyzed when employers and talent connect across a spectrum of compatibility. Resource Employment Solutions prioritizes this compatibility to match the nation's top employers, small and large, with the best people to get the job done. Find your employment solution with RES today.