Information Technology (IT)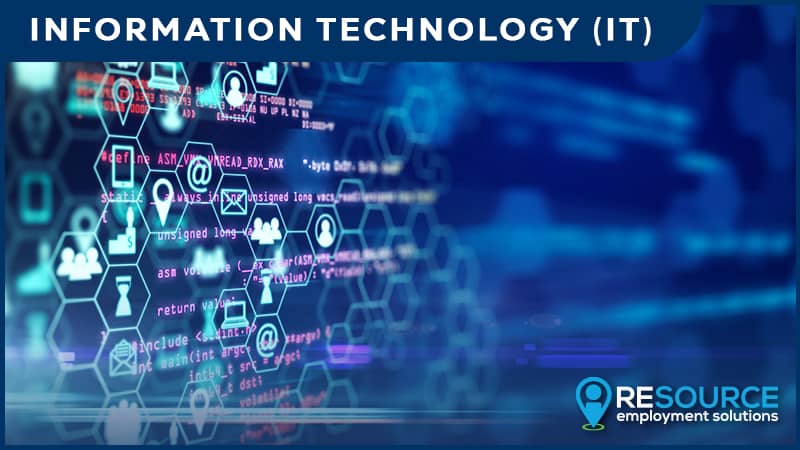 IT spending is expected to exceed $4.5 trillion US in 2023. Maximize your IT investment with strategic IT staffing solutions from RES. Address skill gaps, build an adaptable, stable, and resilient IT workforce, access the industry's most innovative and forward-thinking changemakers, and optimize productivity with our temp-to-hire, direct-hire, contract and project-based placement solutions. When you partner with RES to assemble or develop your IT team, you leverage our robust network of the industry's top talent, our 85+ industry partnerships, our effective and efficient recruiting and screening processes, and our proprietary methods for matching candidates with companies across a broad spectrum of compatibility including experience, skill, values, and workplace culture. Our impressive portfolio of IT placements includes:
Web Developers
UI/UX Designers
Business Analysts
System Analysts/Administrators
Network Administrators
Database Administrators
Software Developers
Cloud Engineers
IT Security Specialists
Cybersecurity Analysts
Data Scientists
Data Quality Managers
Help Desk Technicians
CIOs
IT Infrastructures Managers
Scrum Masters
Network Engineers
QA Analysts
Information Technology Workforce Solutions
RES is committed to recruiting top talent to help companies bolster their organization with a resilient and adaptable workforce today and for the future. We deliver advanced, customized staffing strategies with temp-to-hire, direct hire, contract staffing, and project-based placements across a number of industry verticals. RES connects you with the employment resources you need to be competitive.
The RES Advantage
There are committed, loyal, skilled workers and professionals in every town, city, and state in the US. So, how do you find them and compel them to stay? The best way to recruit, attract, and sustain a skilled and experienced workforce is to partner with a top staffing solutions force. Resource Employment Solutions delivers effective and advantageous strategies to build or bolster your workforce and optimize your operations. This is the RES Advantage.
RELATED ARTICLES AND INSIGHTS (IT STAFFING SOLUTIONS)
How To Identify And Recruit Top Tech Executive Talent
The world of technology is constantly evolving, and companies must keep up with the latest innovations to remain competitive. To do so, they need top tech executive talent to lead their teams and drive innovation. However, identifying and recruiting the right talent for these critical posi
Job Search Strategies: The Top Paying Tech Jobs for 2023
In today's fast-paced digital era, technology is transforming every aspect of our lives. From artificial intelligence to blockchain, advancements in technology are creating new opportunities and revolutionizing industries. With this technological revolution comes an increasing demand f
We conduct a special assessment tailored to your specific needs for each position so that we can find that perfect match for you. We then recruit and process each candidate through our extensive screening process which includes a two-part interview, criminal background check, drug screening, reference checks, I-9 verification and social security check, and education verification. We can also design and conduct customized testing in order to assess each candidate to make sure they are a good fit for your organization.
Our IT recruitment team is always on top of industry compensation trends and can help you design a competitive compensation package to attract top IT talent and optimize profitability.