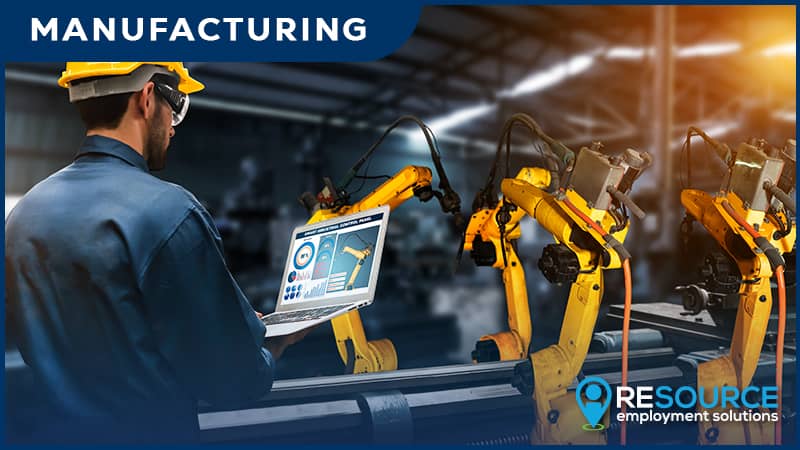 The manufacturing sector is changing rapidly. Automation and AI, a shortage of skilled labor, supply chain interruptions, increasing overhead costs, and more are forcing employers to adapt their staffing strategies to build an adaptable and resilient manufacturing workforce. RES specializes in customizing recruiting and staffing solutions to fortify your manufacturing operations today and as the industry continues to evolve. Our manufacturing employment team can help you attract and retain skilled talent with options for temporary, temp-to-hire, and direct-hire to address fluctuations in demand and workflow, skilled and safety-focused workers, and forward-thinking leadership candidates. Some of the positions we can deliver talent for include:
Technicians
Forklift Operators
Loaders/Unloaders
Assemblers
General Labor
Welders
Fabricators
CNC Machinists
Quality Assurance
Production Supervisors
Employment Solutions For Jobseekers
Are you a job seeker looking for the next, best opportunity to grow your skill set and advance your career? Join Resource Employment Solutions' robust network of talent. We focus on matching job seekers and companies across a spectrum of compatibility including opportunities for growth, competitive compensation, mutual values, and aligned workplace cultures within a number of sectors.
Explore our current opportunities by clicking the button below or contact us to join our jobseeker roster. Your next career move is waiting for you.
Industries We Service
RES is committed to recruiting top talent to help companies bolster their organization with a resilient and adaptable workforce today and for the future. We deliver advanced, customized staffing strategies with temp-to-hire, direct hire, contract staffing, and project-based placements across a number of industry verticals. RES connects you with the employment resources you need to be competitive.
Our manufacturing recruitment team is always on top of industry compensation trends and can help you design a competitive compensation package to attract top talent and optimize profitability.
We almost always recommend starting a new manufacturing employee on contract. In this scenario, RES assumes the tax burden, the payroll tax, the workers comp, etc. RES takes all the burdens off your company, financially and legally. We manage the contract, from hire to contract end freeing up your team to focus on operations and growth.
We have cultivated a robust database of over 9000 skilled and qualified candidates to draw from and streamlined our recruiting and screening process to quickly match talent and companies across a spectrum of match points including skillset, values, workplace culture, and more.
Connecting Top Employers And Top Talent
Sustainable, productive, and adaptable workforces are catalyzed when employers and talent connect across a spectrum of compatibility. Resource Employment Solutions prioritizes this compatibility to match the nation's top employers, small and large, with the best people to get the job done. Find your employment solution with RES today.