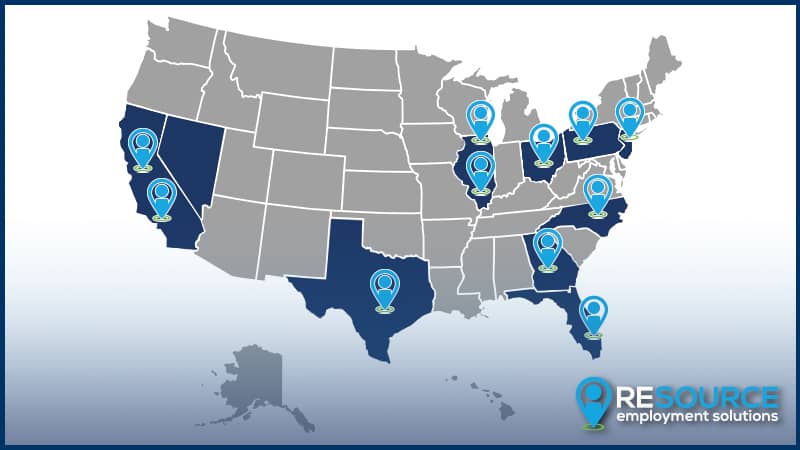 About Resource Employment Solutions
For more than 20 years RES has delivered advanced recruiting and staffing solutions in Administration & Clerical, Manufacturing, Light and Heavy Industrial, Accounting, Finance, Engineering, IT, and Aviation & Defense. Our effective strategies include temp-to-hire, direct hire, contract staffing, and project-based workforce solutions to connect you with the top talent in your industry.
Our dedicated recruiting teams have vast and in-depth knowledge of their specific industry and the skills and experience required to address staffing deficiencies that are unique to your vertical and location. We have cultivated a significant national and global talent database of motivated, resilient, and committed professionals from labor to leadership to help you bolster your existing workforce and position your company for growth and success. We connect you with candidates who can integrate quickly and seamlessly into your organization and help you take it to the next level. We are Resource Employment Solutions.
The Company We Keep
Resource Employment Solutions has cultivated a robust network of the nation's top employers and a skilled, experienced workforce. We have also fostered relationships and reputations with numerous professional associations, licensing and regulatory bodies, and institutes of accreditation. We surround ourselves with the best of the best. This is the company we keep.
The RES Advantage
There are committed, loyal, skilled workers and professionals in every town, city, and state in the US. So, how do you find them and compel them to stay? The best way to recruit, attract, and sustain a skilled and experienced workforce is to partner with a top staffing solutions force. Resource Employment Solutions delivers effective and advantageous strategies to build or bolster your workforce and optimize your operations. This is the RES Advantage.
Employment Solutions For Jobseekers
Are you a job seeker looking for the next, best opportunity to grow your skill set and advance your career? Join Resource Employment Solutions' robust network of talent. We focus on matching job seekers and companies across a spectrum of compatibility including opportunities for growth, competitive compensation, mutual values, and aligned workplace cultures within a number of sectors.
Explore our current opportunities by clicking the button below or contact us to join our jobseeker roster. Your next career move is waiting for you.
Talent Acquisition Solutions For Employers
With an expert and in-depth analysis of your current workforce and operations, our team will formulate a completely customized staffing solution. RES will address skill gaps, seasonal and project-based workforce fluctuations, and operational inefficiencies by connecting you with your industry's top talent from labor to leadership.
We deliver tailored solutions for temp-to-hire, direct hire, contract staffing, and project-based placement so you can access the right candidates at the perfect time.
What To Expect With RES
Our commitment to you is deeper than just providing a list of potential candidates. We are committed to designing and implementing the most effective staffing strategy for you. Here is what you can expect when you choose Resource Employment Solutions as your recruiting and staffing partner.

1. Account Assignment

2. In-Depth Discovery

3. Recruiting And Screening

4. Placement
When you connect with Resource Employment Solutions, you will be matched with an account management team who specializes in placing top talent within your industry. You will have a dedicated recruiter or recruiting team assigned and they will remain your point of contact to understand your business and address all your staffing needs.
Industries We Service
RES is committed to recruiting top talent to help companies bolster their organization with a resilient and adaptable workforce today and for the future. We deliver advanced, customized staffing strategies with temp-to-hire, direct hire, contract staffing, and project-based placements across a number of industry verticals. RES connects you with the employment resources you need to be competitive.
Dedicated To Your Success
Our staffing solutions experts are organized into teams dedicated to your specific industry. Our teams cultivate a comprehensive understanding of market trends, industry best practices, unique staffing challenges, and key skills and assets required within your vertical. We are focused on people, dependability, and service. We are dedicated to your success. Meet Team RES.
Meeting You Where You Are
RES has concentrated "clusters" of business throughout the US. Our commitment to understanding the unique staffing challenges and the skills and experience required in each market and across each vertical gives Resource Employment Solutions the insight to connect qualified talent and quality employers in these territories. This is the RES Edge.
Connecting Top Employers And Top Talent
Sustainable, productive, and adaptable workforces are catalyzed when employers and talent connect across a spectrum of compatibility. Resource Employment Solutions prioritizes this compatibility to match the nation's top employers, small and large, with the best people to get the job done. Find your employment solution with RES today.