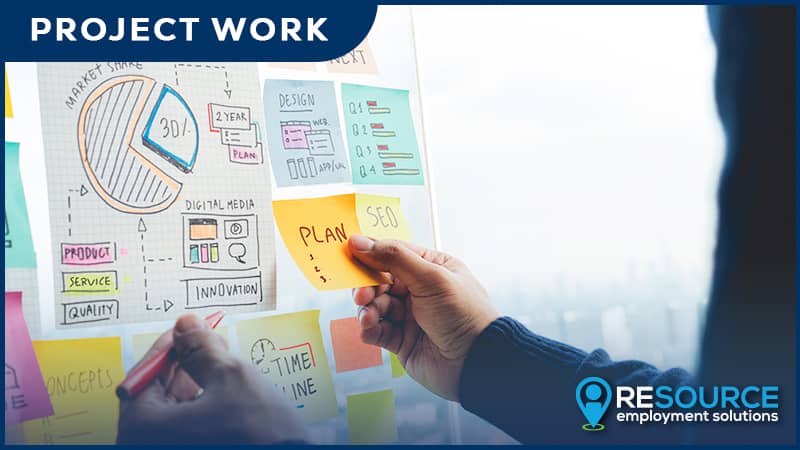 When your business is project based it is critical to have a staffing strategy that allows you to quickly and effectively reinforce your team to meet project requirements and deadlines. From labor to leadership, Resource Employment Solutions can help you build the workforce you need to remain a competitive force within your industry. Our dedicated staffing experts have in-depth market knowledge to customize your hiring strategies and access the talent you need for all levels of project completion. We can access top performers in a number of industries including:
RES solutions can reinforce your existing project teams or help you build your workforce from ground zero up.
Why Choose A Project Staffing Solution?
To Manage Operating Costs.
Project staffing strategies deliver transparent, fixed costs with a clear contract. When you partner with a RES for project-based placements we can analyze and customize staffing strategies for all levels of employment and manage your workforce throughout the lifecycle of the project. Project staffing strategies can also include other staffing solutions including direct-hire, temp-to-hire, and contract consulting and RES is positioned to assume all responsibility for benefits, insurance, health plans, and more under our umbrella policies mitigating your staffing risks.
To Fortify Your Workforce.
Adapt your workforce to accommodate fluctuating project flow and changing customer requirements. Reinforce your team quickly with qualified labor or leadership talent. Position your organization to bid on and accept contracts on short notice. These are just a few of the ways a project staffing strategy can help you build a strong and resilient workforce.
To Partner For The Support You Need
When you need to grow your workforce quickly and sustain operations for the duration of a project and beyond, you may not have the support necessary built into your existing team or operations. A project-based staffing strategy gives you access to the support of the RES employment team to leverage our vast network of global talent, our staffing solutions expertise, and our 20+ years of experience managing products in a variety of industries across the US.
Finding The Ideal Project-Based Candidates
Leverage the expertise and experience of RES and streamline your project staffing recruiting process. In addition to accessing our robust network of skilled and qualified candidates, your business will benefit from our guidance as you quickly and efficiently support and augment your existing team or construct a new team from the ground up.
Determine Your Staffing Needs
When you are bidding on or undertaking a new project, an effective and affordable staffing strategy is key. Our expert staffing teams can quickly and comprehensively assess your project deliverables, timelines, and talent requirements and develop an effective, customized project staffing strategy that positions you favorably against your competition.
Recruiting and Screening
RES will leverage our robust network of top national and global talent from labor to leadership. When the skills and expertise your organization requires are not immediately available we activate our proprietary recruiting strategies and advanced staffing technologies to find the best contract candidates to fill the role. After identifying the best people for the job, we will execute our rigorous screening and interviewing process using advanced staffing solutions technologies to ensure that all education, experience, and references are verified. We can also implement customized screening processes based on your company's unique needs. Your HR or leadership can choose their level of involvement from hands-off through to a comprehensive process partnership.
Offer Competitive Compensation
RES is uniquely positioned to support your project staffing hire by assuming certain responsibilities for benefits, insurance, health plans, and more under our umbrella policies. This allows you to maximize your contract staffing budget to secure the talent resources you need. Once a short list of qualified contract candidates is generated, we will work diligently on your behalf to design competitive and compelling compensation packages for all levels of employment.
Employment Solutions For Jobseekers
Are you a job seeker looking for the next, best opportunity to grow your skill set and advance your career? Join Resource Employment Solutions' robust network of talent. We focus on matching job seekers and companies across a spectrum of compatibility including opportunities for growth, competitive compensation, mutual values, and aligned workplace cultures within a number of sectors.
Explore our current opportunities by clicking the button below or contact us to join our jobseeker roster. Your next career move is waiting for you.
Industries We Service
RES is committed to recruiting top talent to help companies bolster their organization with a resilient and adaptable workforce today and for the future. We deliver advanced, customized staffing strategies with temp-to-hire, direct hire, contract staffing, and project-based placements across a number of industry verticals. RES connects you with the employment resources you need to be competitive.
Connecting Top Employers And Top Talent
Sustainable, productive, and adaptable workforces are catalyzed when employers and talent connect across a spectrum of compatibility. Resource Employment Solutions prioritizes this compatibility to match the nation's top employers, small and large, with the best people to get the job done. Find your employment solution with RES today.