Driving Progress Across Industries: Partnering with Resource Employment Solutions for Engineering Ex
Driving Progress Across Industries: Partnering with Resource Employment Solutions for Engineering Ex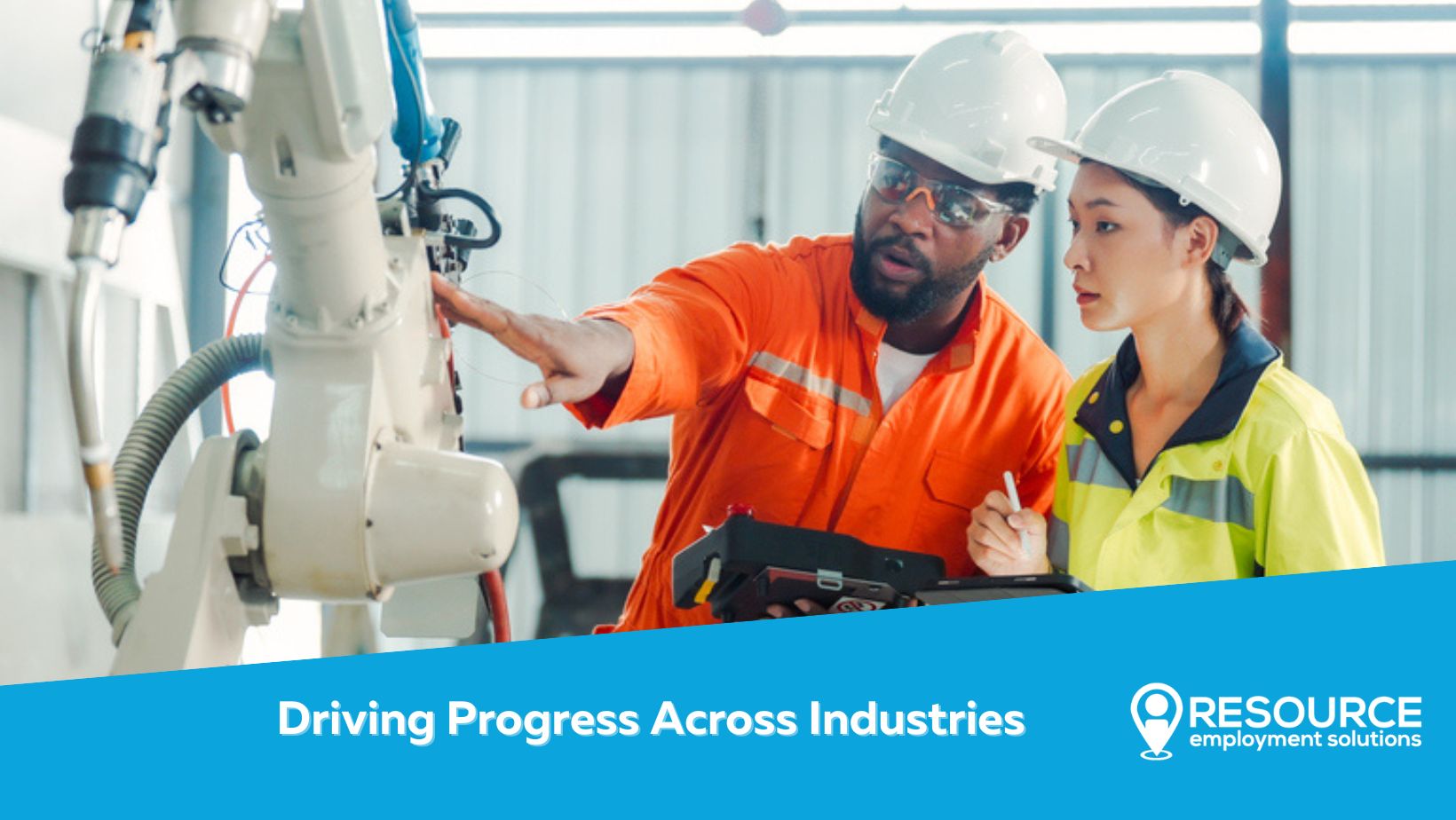 Experience the transformative power of engineering expertise with Resource Employment Solutions. This blog delves into the pivotal role of engineering across various industries – from mechanical to electrical and software engineering. Our specialized team connects companies with exceptional talent, ensuring a precise alignment of skills and industry insights. Discover how our professionals drive progress, innovation, and growth, shaping industries and leaving a lasting impact. Partner with us to unlock engineering excellence and propel your organization towards a future defined by ingenuity and innovation.
Engineering stands as the cornerstone of innovation, driving progress across a multitude of industries. From designing intricate machinery to developing cutting-edge software solutions, engineering expertise forms the bedrock upon which technological advancement is built. At Resource Employment Solutions, we recognize the pivotal role that engineering professionals play in shaping the world around us. Our specialized team understands the unique demands of various engineering disciplines and stands ready to connect companies with exceptional talent that aligns with their human capital needs.
Engineered Solutions: The Backbone of Progress
From the towering skyscrapers that define city skylines to the microchips powering modern electronics, engineered solutions underpin our daily lives. Mechanical engineering ensures that structures are robust and efficient, while electrical engineering electrifies our world, and software engineering drives the digital revolution. The diversity of engineering disciplines reflects the breadth of human achievement, each contributing to progress in their own distinct way.
Specialized Skills and Disciplines
At Resource Employment Solutions, we possess a comprehensive understanding of the specialized skills and knowledge required in various engineering disciplines. The intricacies of mechanical engineering, encompassing design, analysis, and materials science, are matched by our expertise in identifying professionals who excel in these domains. Similarly, our understanding of electrical engineering extends to professionals skilled in power distribution, circuitry, and electronics. In the realm of software engineering, we connect companies with experts who are versed in coding languages, algorithms, and software development life cycles.
Customized Talent Solutions
We understand that finding the right engineering talent goes beyond a general skill match. It involves identifying professionals who possess the precise expertise that aligns with an organization's projects and objectives. Our approach is tailored to your needs, ensuring that the professionals we connect you with not only bring the required skills but also possess a deep understanding of your industry's nuances.
Building Bridges with Engineering Expertise
The success of engineering endeavors is rooted in the skills, insights, and creativity of the professionals driving them. By partnering with Resource Employment Solutions, you gain access to a network of exceptional engineering talent that spans multiple disciplines. These experts possess the ability to envision, design, and execute solutions that address complex challenges and drive innovation.
Advancing Industries, Enriching Lives
The impact of engineering expertise extends far beyond technical achievements; it transforms industries and enriches lives. Engineering professionals contribute to advancements in healthcare, transportation, communication, and sustainability. By connecting companies with exceptional engineering talent, Resource Employment Solutions plays a role in shaping a brighter future through innovation and progress.
Strategic Alignment of Talent
Engineering is not just about skills; it's about vision, strategy, and alignment. Our team's understanding of your organization's objectives and culture ensures that the professionals we connect you with seamlessly integrate into your team. This alignment fosters collaboration, accelerates project timelines, and enhances the overall impact of your engineering initiatives.
A Pathway to Success
As industries evolve, the need for engineering expertise becomes increasingly pronounced. By partnering with Resource Employment Solutions, you equip your organization with the tools needed to drive progress, innovation, and growth. Our network of engineering professionals spans diverse disciplines, ensuring that your projects are supported by experts who bring both technical prowess and strategic insight to the table.
Shaping Tomorrow Through Engineering
The path to a brighter future is paved with engineering ingenuity. By connecting organizations with exceptional engineering talent, Resource Employment Solutions contributes to shaping tomorrow's possibilities. Our professionals stand as pioneers of innovation, redefining industries, improving technologies, and leaving an indelible mark on the world.
Engineering expertise serves as the driving force behind progress in numerous industries. Resource Employment Solutions stands as a partner in this journey, offering access to a network of exceptional talent in mechanical, electrical, and software engineering. Together, we can fuel innovation, transform industries, and pave the way for a future defined by engineering excellence.
What To Expect With RES
Our commitment to you is deeper than just providing a list of potential candidates. We are committed to designing and implementing the most effective staffing strategy for you. Here is what you can expect when you choose Resource Employment Solutions as your recruiting and staffing partner.

1. Account Assignment

2. In-Depth Discovery

3. Recruiting And Screening

4. Placement
When you connect with Resource Employment Solutions, you will be matched with an account management team who specializes in placing top talent within your industry. You will have a dedicated recruiter or recruiting team assigned and they will remain your point of contact to understand your business and address all your staffing needs.
Connecting Top Employers And Top Talent
Sustainable, productive, and adaptable workforces are catalyzed when employers and talent connect across a spectrum of compatibility. Resource Employment Solutions prioritizes this compatibility to match the nation's top employers, small and large, with the best people to get the job done. Find your employment solution with RES today.