Embracing Technology: Empowering Employees and Boosting Engagement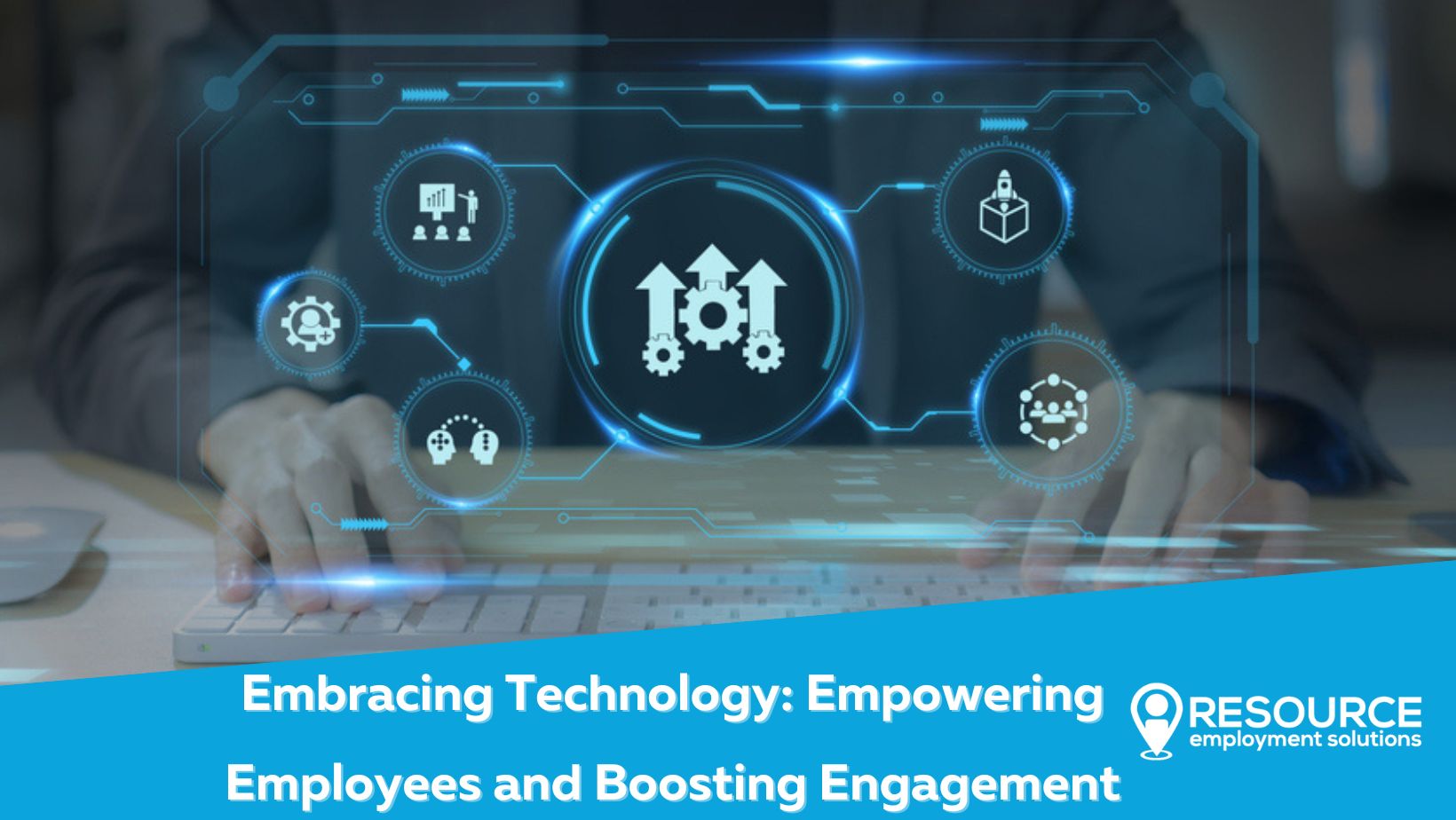 Discover how embracing technology can empower employees and enhance engagement in the modern workplace. In an era where self-service portals, mobile apps, and digital platforms reign supreme, employees gain unprecedented autonomy over their work-related activities. These tools allow effortless access to information, benefits management, and seamless interaction with HR processes. Such empowerment is a catalyst for heightened engagement, as employees feel more connected to their roles and the organization. The convenience of digital access fosters job satisfaction, while platforms for collaboration bridge gaps caused by physical separation. As technology personalizes experiences and provides data-driven insights, organizations can tailor strategies to individual preferences and refine HR approaches. This blog delves into the transformative synergy of technology and engagement, illustrating how a digitally connected workforce is the future of successful businesses.
In the digital age, technology has become more than just a tool; it's a transformative force that shapes the way we work, communicate, and interact. The integration of technology into various aspects of business has revolutionized not only the way we conduct operations but also how we engage with our most valuable assets: our employees. From self-service portals to mobile apps and digital platforms, technology has paved the way for empowering employees and fostering a more engaged and connected workforce.
Empowering Through Self-Service Portals, Mobile Apps, and Digital Platforms
The rise of self-service portals, mobile apps, and digital platforms has marked a paradigm shift in how employees interact with their workplace. These tools offer a seamless and convenient way for employees to access information, manage benefits, and engage with HR processes on their terms. With self-service portals, employees no longer need to navigate a labyrinth of paperwork or wait for manual assistance. They can independently update their personal information, view pay stubs, and enroll in benefits with just a few clicks.
Mobile apps take this empowerment a step further by placing these capabilities directly into the hands of employees, quite literally. Whether they're on the go or working remotely, employees can access the app from their smartphones, enabling them to stay connected to work-related tasks and updates. Digital platforms, on the other hand, provide a comprehensive ecosystem where employees can collaborate, share knowledge, and engage in discussions regardless of physical distance.
Boosting Engagement: A Digitally Connected Workforce
The positive impact of technology on employee engagement is undeniable. Empowering employees with self-service tools and digital platforms creates a sense of autonomy and ownership over their work-related activities. This empowerment translates into increased engagement as employees feel more connected to their roles and the organization as a whole. The convenience of accessing important information and managing tasks efficiently cultivates a positive work experience, contributing to overall job satisfaction.
Moreover, the ability to interact through digital platforms fosters a sense of belonging and camaraderie among employees. These platforms provide spaces for open communication, idea sharing, and collaboration, bridging gaps that physical separation might create. With the freedom to engage in meaningful discussions and contribute to company-wide initiatives, employees feel valued and integral to the organization's success. The benefits can be listed as such:
Efficiency and Accessibility: The efficiency brought about by self-service portals, mobile apps, and digital platforms cannot be overstated. These tools eliminate the need for tedious administrative processes, allowing employees to focus their time and energy on more meaningful tasks. Moreover, they break down the barriers of time and location, enabling employees to access resources and engage with colleagues regardless of their physical whereabouts.
Personalized Experiences: Technology enables organizations to offer personalized experiences to employees. With self-service tools, employees can tailor their benefits, update information, and choose the communication channels that suit them best. This level of personalization enhances engagement by demonstrating that the organization values individual preferences and needs.
Data-Driven Insights: The integration of technology also opens the door to data-driven insights. Organizations can gather data on employee engagement, usage patterns, and preferences. This information can be used to refine HR strategies, improve processes, and create more targeted engagement initiatives.
Embracing technology isn't just about staying current; it's about transforming the workplace into an environment where employees thrive. Self-service portals, mobile apps, and digital platforms empower employees by giving them control over their work-related tasks and interactions. This empowerment, in turn, fuels engagement and a sense of belonging. As organizations continue to evolve in the digital landscape, the power of technology in boosting engagement and fostering a connected workforce is a testament to its enduring influence. The future of work is digital, and those who harness its potential are destined to create a workforce that's not just engaged, but empowered to reach new heights.
What To Expect With RES
Our commitment to you is deeper than just providing a list of potential candidates. We are committed to designing and implementing the most effective staffing strategy for you. Here is what you can expect when you choose Resource Employment Solutions as your recruiting and staffing partner.

1. Account Assignment

2. In-Depth Discovery

3. Recruiting And Screening

4. Placement
When you connect with Resource Employment Solutions, you will be matched with an account management team who specializes in placing top talent within your industry. You will have a dedicated recruiter or recruiting team assigned and they will remain your point of contact to understand your business and address all your staffing needs.
Connecting Top Employers And Top Talent
Sustainable, productive, and adaptable workforces are catalyzed when employers and talent connect across a spectrum of compatibility. Resource Employment Solutions prioritizes this compatibility to match the nation's top employers, small and large, with the best people to get the job done. Find your employment solution with RES today.