Embracing the Digital Transformation in Specialty Manufacturing with Resource Employment Solutions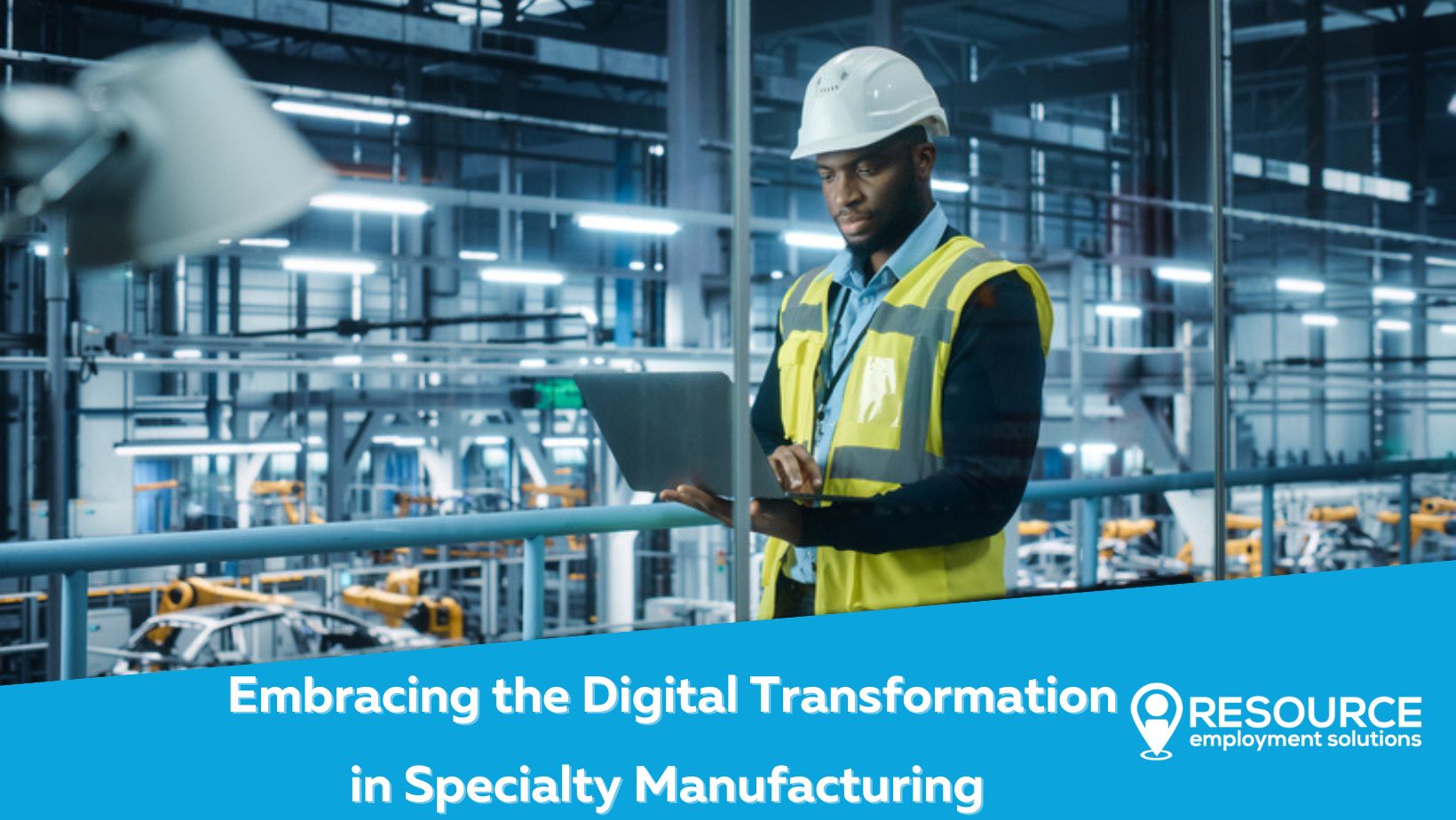 Step into the future of specialty manufacturing with Resource Employment Solutions. Our expertise in IoT, automation, and data analytics empowers companies to optimize production processes, elevate quality control, and redefine efficiency. As the digital revolution reshapes the manufacturing landscape, we stand as your strategic partner, guiding businesses through this transformative journey. From connecting devices through IoT to harnessing data insights for informed decisions, we ensure seamless integration of digital advancements. Our approach extends beyond staffing, providing a comprehensive understanding of industry nuances and aligning digital solutions with unique goals. Embrace the digital transformation and propel your specialty manufacturing to new heights with Resource Employment Solutions.
In the ever-evolving landscape of specialty manufacturing, the digital revolution has emerged as a game-changer. The integration of cutting-edge technologies such as the Internet of Things (IoT), automation, and data analytics is reshaping production processes, enhancing quality control, and redefining overall efficiency. Resource Employment Solutions stands as your partner, guiding companies through this transformative journey of adopting digital advancements to unlock operational optimization and unprecedented growth.
Unleashing the Potential of IoT
The Internet of Things (IoT) is revolutionizing specialty manufacturing by connecting devices and systems to gather and analyze data in real-time. This level of connectivity offers manufacturers insights into production lines, machinery performance, and quality metrics that were once unimaginable. Resource Employment Solutions assists in sourcing professionals who are well-versed in IoT implementation, ensuring seamless integration and paving the way for enhanced process efficiency.
Automating Excellence
Automation has proven to be a catalyst for operational excellence in specialty manufacturing. From streamlined production lines to reduced human errors, automation optimizes processes and minimizes resource wastage. Resource Employment Solutions specializes in connecting companies with experts in automation technologies, enabling businesses to embrace this digital leap and experience tangible improvements in productivity and precision.
Data Analytics: Transforming Insights into Strategy
Data analytics has emerged as a cornerstone of digital transformation, empowering manufacturers to transform raw data into actionable insights. By harnessing data analytics, companies gain a deeper understanding of production trends, consumer preferences, and performance bottlenecks. Resource Employment Solutions links organizations with professionals skilled in data analytics, enabling them to make informed decisions that drive manufacturing excellence.
Navigating the Complex Landscape
Resource Employment Solutions recognizes that embracing the digital transformation requires a blend of expertise, strategy, and a deep understanding of industry nuances. Our partnership goes beyond staffing – we guide companies through the intricacies of integrating IoT, automation, and data analytics into their manufacturing processes. By aligning digital advancements with unique business goals, we ensure that our clients are poised to thrive in the digital era.
Driving Efficiency and Quality Control
Specialty manufacturing demands precision and quality assurance. The digital transformation enables companies to enhance quality control mechanisms through real-time monitoring and predictive analytics. Flaws can be detected early, minimizing defects and reducing waste. Resource Employment Solutions assists in building teams that implement these technologies, allowing manufacturers to produce superior products with unprecedented efficiency.
Partnering for Manufacturing Excellence
Resource Employment Solutions stands as more than a staffing solution – we are your partner in realizing the full potential of digital transformation. Our expertise extends to strategy development, technology integration, and talent acquisition. We collaborate closely with companies to understand their unique challenges and objectives, co-creating solutions that drive manufacturing excellence and foster innovation.
As the digital revolution sweeps through specialty manufacturing, Resource Employment Solutions becomes your guiding light in this transformative journey. By adopting IoT, automation, and data analytics, companies unlock untapped efficiencies, elevate quality control, and redefine their overall manufacturing approach. With our expertise, your organization can seamlessly navigate the digital transformation, embracing technological advancements that drive excellence, growth, and success in the realm of specialty manufacturing.
What To Expect With RES
Our commitment to you is deeper than just providing a list of potential candidates. We are committed to designing and implementing the most effective staffing strategy for you. Here is what you can expect when you choose Resource Employment Solutions as your recruiting and staffing partner.

1. Account Assignment

2. In-Depth Discovery

3. Recruiting And Screening

4. Placement
When you connect with Resource Employment Solutions, you will be matched with an account management team who specializes in placing top talent within your industry. You will have a dedicated recruiter or recruiting team assigned and they will remain your point of contact to understand your business and address all your staffing needs.
Connecting Top Employers And Top Talent
Sustainable, productive, and adaptable workforces are catalyzed when employers and talent connect across a spectrum of compatibility. Resource Employment Solutions prioritizes this compatibility to match the nation's top employers, small and large, with the best people to get the job done. Find your employment solution with RES today.