Empowering Excellence in Specialty Manufacturing: Partnering with Resource Employment Solutions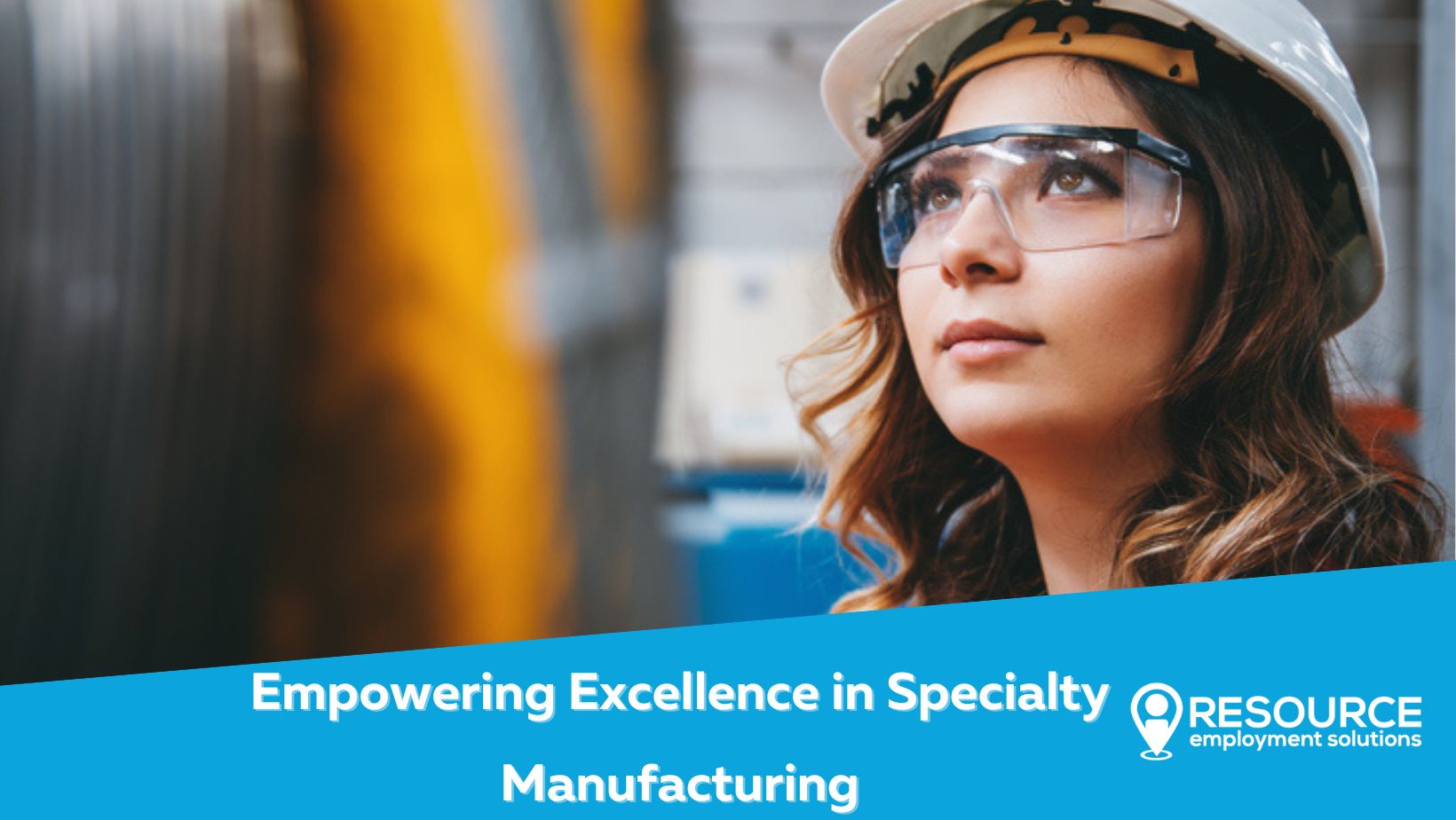 Unlock the potential of specialty manufacturing with Resource Employment Solutions. Discover how our specialized talent network, including precision machining experts, advanced materials innovators, and custom production architects, propels your operations to new heights. This blog delves into the pivotal role of tailored expertise in driving success within the intricate landscape of specialty manufacturing. Whether you're crafting precision components, harnessing advanced materials, or creating custom solutions, our professionals offer the skills and insights needed. Partner with us to elevate your specialty manufacturing endeavors, push the boundaries of innovation, and shape the future of industries.
In the realm of specialty manufacturing, where precision, innovation, and customized solutions reign supreme, the role of specialized talent cannot be understated. Behind every intricately crafted product, advanced material, and bespoke production lies a team of skilled professionals who bring their expertise to the forefront. At Resource Employment Solutions, we recognize the unique demands of specialty manufacturing and specialize in connecting companies with the right professionals who possess the skills and knowledge required for success.
Navigating the Landscape of Specialty Manufacturing
Specialty manufacturing encompasses a wide array of industries and products, each with its own set of challenges and intricacies. From precision machining that demands unparalleled accuracy to advanced materials that push the boundaries of innovation, specialty manufacturing requires a deep understanding of techniques, processes, and materials that go beyond the conventional.
Precision Machining Virtuosos
Precision machining lies at the heart of specialty manufacturing, where components must be manufactured to incredibly tight tolerances. Our network of skilled professionals includes precision machining virtuosos who excel in turning raw materials into intricate parts that meet exact specifications. These experts use state-of-the-art technology and a keen eye for detail to create components that play a crucial role in various industries, from aerospace to medical devices.
Pushing Boundaries with Advanced Materials
Innovation often hinges on the development and utilization of advanced materials that exhibit exceptional properties. Whether it's high-strength alloys, cutting-edge polymers, or novel composites, the mastery of advanced materials is paramount in specialty manufacturing. Our network includes professionals who possess a deep understanding of these materials, allowing your organization to stay at the forefront of innovation.
Custom Production Architects
Specialty manufacturing frequently involves creating customized products tailored to unique specifications. This requires not only technical expertise but also the ability to understand and meet clients' specific needs. Our network includes custom production architects who excel in designing and producing one-of-a-kind products that address complex challenges across industries.
A Tailored Approach to Talent Acquisition
At Resource Employment Solutions, we understand that finding the right professionals for specialty manufacturing goes beyond basic skills. It requires a comprehensive understanding of the industry's nuances, trends, and evolving technologies. Our specialized approach to talent acquisition ensures that the professionals we connect you with possess the expertise and knowledge necessary to excel in your specific specialty manufacturing operations.
Elevating Specialty Manufacturing Operations
The success of specialty manufacturing operations relies on the caliber of the team driving them. By partnering with Resource Employment Solutions, you gain access to a network of professionals who bring a deep understanding of precision machining, advanced materials, custom production, and more. These experts are not just skilled professionals; they are individuals who are committed to propelling your specialty manufacturing endeavors to new heights.
Shaping the Future of Specialty Manufacturing
In the world of specialty manufacturing, every product represents a blend of innovation, precision, and craftsmanship. By connecting companies with exceptional talent, Resource Employment Solutions plays a role in shaping the future. Our professionals contribute to breakthroughs that redefine possibilities, push the boundaries of what's achievable, and elevate industries across the board.
In conclusion, the journey of specialty manufacturing demands the expertise of individuals who are masters in precision machining, advanced materials, and custom production. Resource Employment Solutions stands as a partner in this journey, offering access to professionals who not only possess the necessary skills but also a deep understanding of the industry's intricacies. Together, we can elevate the impact of your specialty manufacturing operations and drive innovation that resonates across industries.
What To Expect With RES
Our commitment to you is deeper than just providing a list of potential candidates. We are committed to designing and implementing the most effective staffing strategy for you. Here is what you can expect when you choose Resource Employment Solutions as your recruiting and staffing partner.

1. Account Assignment

2. In-Depth Discovery

3. Recruiting And Screening

4. Placement
When you connect with Resource Employment Solutions, you will be matched with an account management team who specializes in placing top talent within your industry. You will have a dedicated recruiter or recruiting team assigned and they will remain your point of contact to understand your business and address all your staffing needs.
Connecting Top Employers And Top Talent
Sustainable, productive, and adaptable workforces are catalyzed when employers and talent connect across a spectrum of compatibility. Resource Employment Solutions prioritizes this compatibility to match the nation's top employers, small and large, with the best people to get the job done. Find your employment solution with RES today.