Empowering Power Generation Companies: Building Strong Teams with Resource Employment Solutions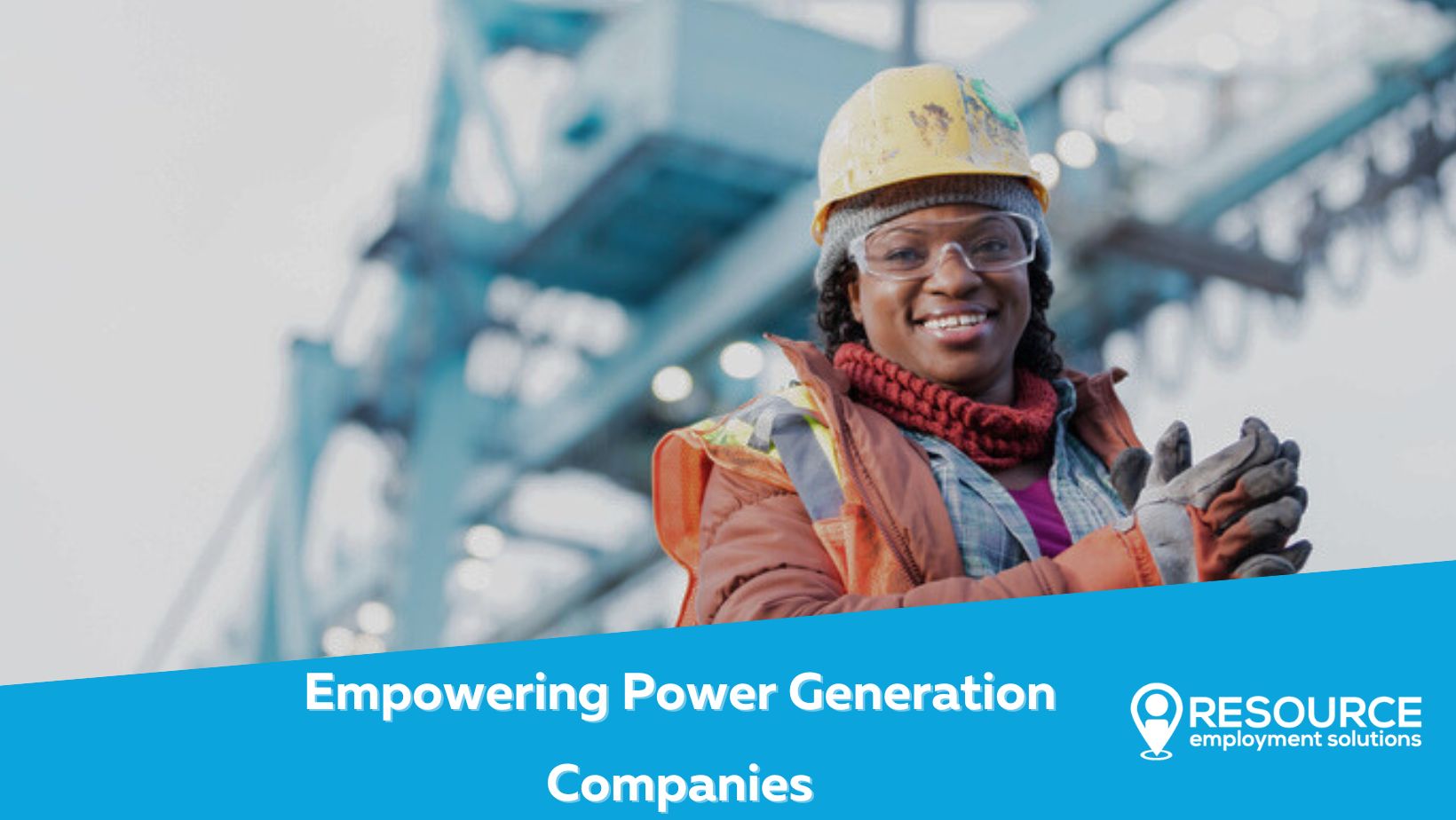 Amid the dynamic energy landscape, your workforce forms the bedrock of achievement. Resource Employment Solutions specializes in uniting power generation enterprises with adept professionals, fueling innovation, operational prowess, and steadfast energy production. Allow us to facilitate your journey in forming potent teams that steer your organization to unparalleled heights.
In power generation, excellence emanates from skilled teams driving progress. These adept professionals bridge innovation and operational efficiency, ensuring the consistent flow of energy. Resource Employment Solutions, your collaborative partner, understands your unique requirements and sources experts who resonate with your company ethos.
Our expansive network of industry-savvy professionals ensures your access to talent proficient in energy production, sustainable practices, and evolving technologies. As you focus on your core pursuits, we navigate the intricacies of talent acquisition, constructing teams that not only support success but energize the future of energy generation. Unleash your potential with Resource Employment Solutions and light the path to enduring accomplishment.
In the dynamic realm of power generation, success hinges upon more than just advanced technology and strategic planning. The real power behind sustained growth and innovation lies within the workforce. At Resource Employment Solutions, we recognize this fundamental truth and have honed our expertise in connecting power generation companies with the skilled professionals who can not only drive innovation but also maintain operational efficiency, ensuring the reliable generation of energy. Let us take the reins in helping you assemble a powerful team that propels your company toward unprecedented heights.
The Backbone of Success: Your Workforce
In an industry as critical as power generation, where demand is perennial and technological shifts are rapid, the importance of a skilled and motivated workforce cannot be overstated. The professionals who operate, maintain, and innovate within power generation companies are the ones who translate theoretical potential into tangible reality. Their expertise drives efficiency, keeps systems running smoothly, and paves the way for groundbreaking advancements.
Connecting Innovation and Operational Efficiency
Innovation within the power generation sector is not just about adopting cutting-edge technologies; it's about creating an environment where these technologies can flourish. The right professionals with a deep understanding of engineering principles, renewable energy solutions, and advanced automation systems can navigate the intricacies of modern power generation. They are the ones who can bridge the gap between innovation and operational efficiency, ensuring that your company's endeavors translate into real-world impact.
Reliability in Energy Generation
For power generation companies, reliability is the cornerstone. The lights must stay on, industries must keep running, and communities must remain connected. Achieving this level of reliability requires a team that is not only skilled but also dedicated to maintaining and optimizing energy generation systems. From maintaining turbines to troubleshooting complex electrical issues, these professionals are the unsung heroes who work diligently to ensure the seamless flow of energy.
Resource Employment Solutions: Your Partner in Building a Powerhouse Team
Resource Employment Solutions is more than just a staffing agency; we are your partners in growth. With a profound understanding of the power generation landscape, we know the critical roles that need to be filled within your organization. Our approach involves delving deep into your company's objectives, values, and technical requirements. By aligning our selection process with your unique needs, we ensure that the professionals we connect you with are not just qualified on paper, but also a perfect fit for your company's culture.
Our extensive network of skilled professionals in the power generation sector enables us to find individuals who excel in areas like energy production, systems optimization, maintenance, and sustainability. Whether you need experts in thermal power, renewable energy, or emerging technologies, we have the resources to meet your demands.
Unleash the Potential: Forge Ahead with Confidence
In a competitive industry where innovation is essential and operational reliability is paramount, a robust and agile team can make all the difference. Resource Employment Solutions stands ready to help you create that team, one that embodies engineering excellence, innovation, and a dedication to the vital task of energy generation.
Let us empower you to focus on your core business activities while we handle the intricate process of talent acquisition. Build your powerhouse team with Resource Employment Solutions and harness the power of a workforce that not only drives your success but also powers the future of energy generation. Your journey to an empowered future begins with the right team today.
What To Expect With RES
Our commitment to you is deeper than just providing a list of potential candidates. We are committed to designing and implementing the most effective staffing strategy for you. Here is what you can expect when you choose Resource Employment Solutions as your recruiting and staffing partner.

1. Account Assignment

2. In-Depth Discovery

3. Recruiting And Screening

4. Placement
When you connect with Resource Employment Solutions, you will be matched with an account management team who specializes in placing top talent within your industry. You will have a dedicated recruiter or recruiting team assigned and they will remain your point of contact to understand your business and address all your staffing needs.
Connecting Top Employers And Top Talent
Sustainable, productive, and adaptable workforces are catalyzed when employers and talent connect across a spectrum of compatibility. Resource Employment Solutions prioritizes this compatibility to match the nation's top employers, small and large, with the best people to get the job done. Find your employment solution with RES today.