Navigating the Global Energy Revolution with Resource Employment Solutions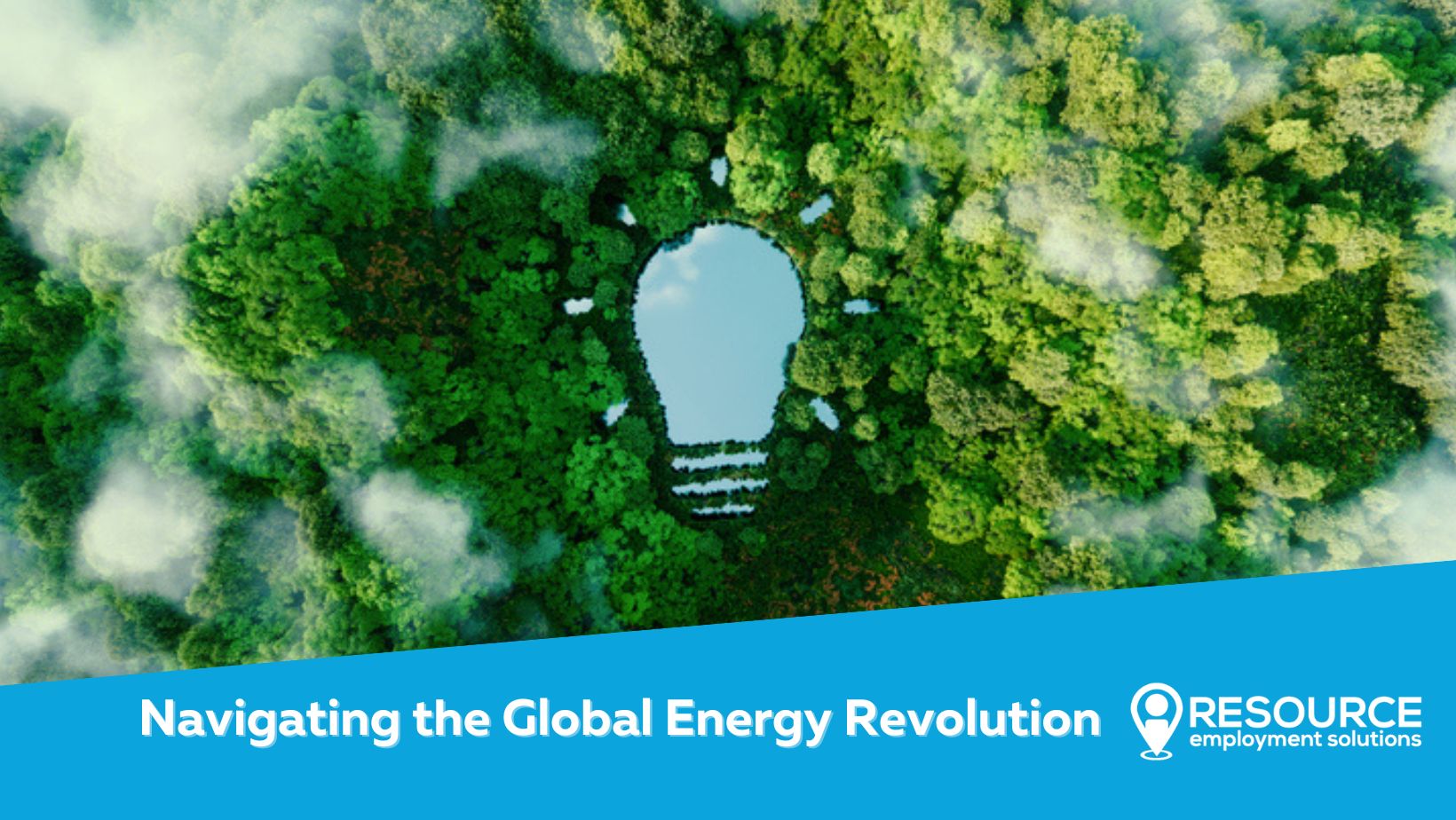 Embark on the global energy revolution alongside Resource Employment Solutions. With comprehensive insights into power generation and a network of diverse talents, we propel your energy endeavors. From conventional to sustainable solutions, our expertise bridges the gap between your initiatives and the world's changing energy demands. Operating on a global scale, we match you with professionals who embrace innovation and sustainability, essential qualities in today's evolving energy landscape. As clean energy takes center stage, our strategic partnership ensures your projects thrive while contributing to a greener future. Together, let's drive progress in the global energy revolution and shape a more sustainable tomorrow.
In an era of rapid environmental and technological shifts, the global energy landscape is undergoing a revolution. From traditional fossil fuels to clean and sustainable energy solutions, the choices we make today will shape the world of tomorrow. Embracing this transformation requires a strategic approach, and that's where Resource Employment Solutions steps in. With a profound understanding of the intricacies involved in power generation on a global scale, they bridge the gap between your energy initiatives and the talent necessary to drive them forward.
A Multifaceted Revolution
The global energy revolution is multifaceted, encompassing advancements in renewable technologies, the integration of smart grids, and the ongoing optimization of conventional power sources. Resource Employment Solutions recognizes that navigating this revolution requires expertise across a spectrum of energy domains. Whether it's harnessing solar power, exploring wind energy, enhancing efficiency in traditional power plants, or pioneering innovative storage solutions, their commitment to understanding these complexities sets them apart.
From Local to Global Talent
The revolution knows no boundaries, and neither does the talent that fuels it. Resource Employment Solutions operates on a global stage, connecting businesses with individuals who bring diverse perspectives and experiences to the table. The power of a diverse workforce lies in its ability to innovate, adapt, and devise novel solutions to complex challenges. With an extensive network spanning continents, they ensure that your energy initiatives benefit from the insights of professionals from around the world.
Bridging the Skills Gap
The transformation of the energy sector demands a workforce that's adept at handling cutting-edge technologies, sustainable practices, and evolving regulatory landscapes. Resource Employment Solutions bridges the skills gap by identifying individuals who possess not only the technical expertise but also the adaptability required to thrive in an ever-changing energy ecosystem. Their ability to match your energy initiatives with the right skill sets ensures that your projects are not just feasible but positioned for success.
Leading the Charge in Sustainability
Clean and sustainable energy solutions are at the forefront of the global energy revolution. From reducing carbon footprints to minimizing environmental impacts, businesses are increasingly expected to operate with sustainability at the core of their strategies. Resource Employment Solutions is committed to supporting this shift by connecting organizations with professionals who share a passion for sustainable energy practices. Together, you can lead the charge toward a greener future.
A Strategic Partnership for Progress
Resource Employment Solutions doesn't merely provide talent; they forge strategic partnerships. Your energy initiatives are their priority, and they approach staffing with a keen understanding of your unique goals. By aligning their efforts with your vision, they ensure that the individuals they connect you with are not just skilled but aligned with your organization's values, objectives, and mission in the energy sector.
A Future Defined by Possibility
The global energy revolution isn't just about change; it's about the boundless possibilities that lie ahead. Resource Employment Solutions empowers your business to grasp these opportunities and shape a future where energy generation is sustainable, efficient, and innovative. With their support, you're not just navigating the revolution; you're leading it.
The global energy landscape is undergoing a transformation that demands visionary thinking and dynamic solutions. Resource Employment Solutions is your partner in this journey, offering a deep understanding of energy complexities, a global network of talent, and a commitment to sustainable progress. Embrace this opportunity to be a driving force in the global energy revolution, and together, let's shape a future of energy abundance, efficiency, and sustainability.
What To Expect With RES
Our commitment to you is deeper than just providing a list of potential candidates. We are committed to designing and implementing the most effective staffing strategy for you. Here is what you can expect when you choose Resource Employment Solutions as your recruiting and staffing partner.

1. Account Assignment

2. In-Depth Discovery

3. Recruiting And Screening

4. Placement
When you connect with Resource Employment Solutions, you will be matched with an account management team who specializes in placing top talent within your industry. You will have a dedicated recruiter or recruiting team assigned and they will remain your point of contact to understand your business and address all your staffing needs.
Connecting Top Employers And Top Talent
Sustainable, productive, and adaptable workforces are catalyzed when employers and talent connect across a spectrum of compatibility. Resource Employment Solutions prioritizes this compatibility to match the nation's top employers, small and large, with the best people to get the job done. Find your employment solution with RES today.