Optimizing the Supply Chain: Fueling Workforce Productivity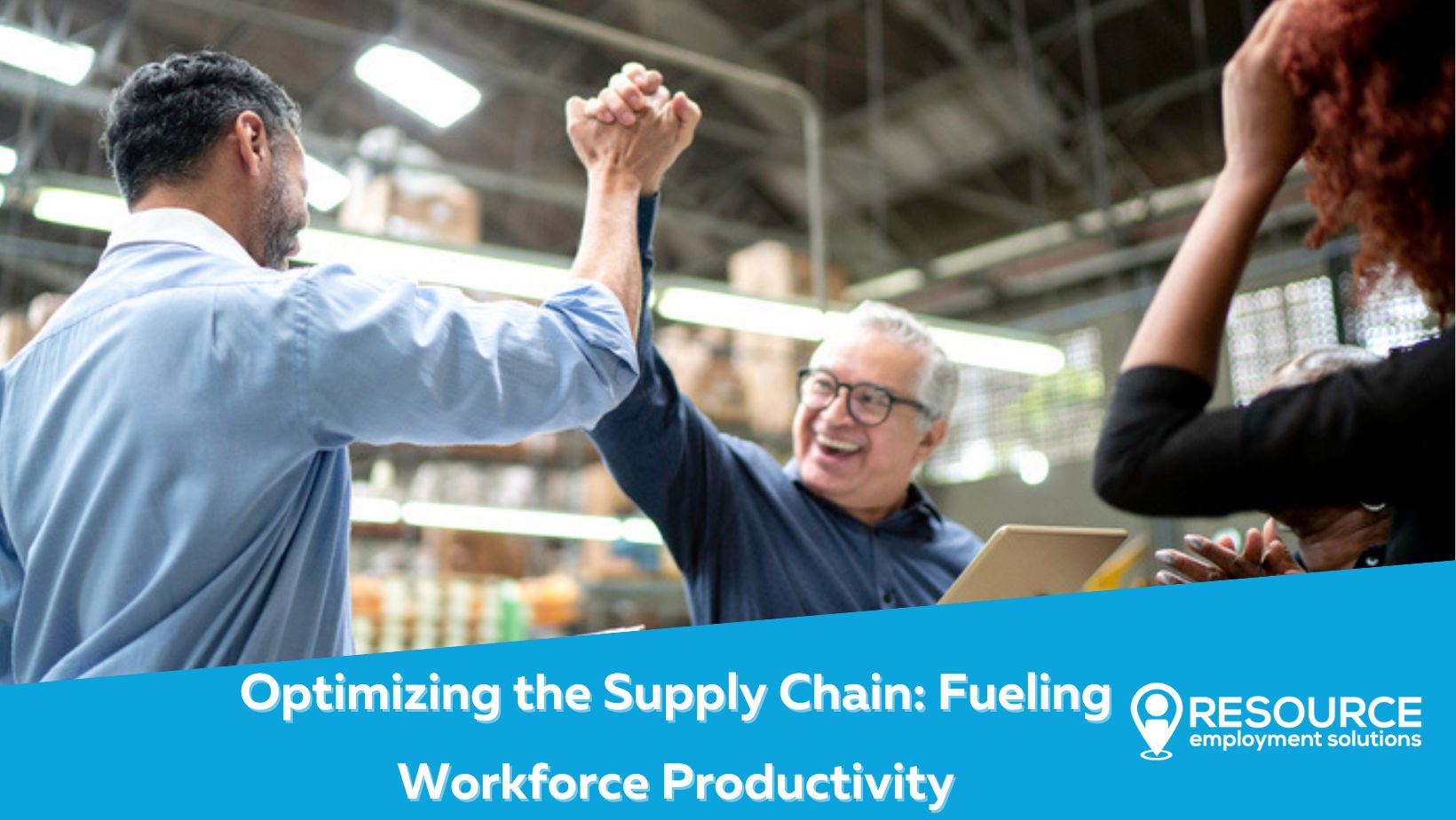 Discover the dynamic relationship between an optimized supply chain and workforce productivity. Learn how efficient processes empower employees by providing timely resources, accelerating projects, and boosting morale. Seamlessly integrated supply chains foster engagement, operational agility, and high-quality outputs. Uncover how embracing supply chain excellence goes beyond logistics, driving a productive workforce and organizational success.
In the intricate dance of business operations, the supply chain stands as a critical partner in ensuring that everything flows seamlessly. Yet, its impact often reverberates far beyond the warehouse walls and inventory sheets. A well-optimized supply chain isn't just about logistics; it's about boosting workforce productivity. When supply chain processes hum with efficiency, employees can access essential resources and materials promptly. This, in turn, empowers them to excel in their tasks, fueling both individual and organizational success. In this blog, we explore the symbiotic relationship between an optimized supply chain and a productive workforce.
Efficiency Breeds Effectiveness: The Nexus of Supply Chain and Productivity
Supply chain optimization extends beyond the realm of logistics and procurement. It is a vital cog that keeps the wheels of workforce productivity turning smoothly. When materials are sourced and delivered promptly, employees are equipped to perform their tasks effectively. The availability of necessary resources eliminates unnecessary delays, ensuring that projects progress as planned. Imagine a scenario where a software development team receives the required hardware components on time, enabling them to meet crucial deadlines. This seamless flow accelerates project timelines and empowers employees to focus on their core responsibilities.
Empowering Employees Through Timely Access
An optimized supply chain isn't just about expediting the flow of goods; it's about granting employees timely access to the tools of their trade. Imagine a manufacturing plant where operators have instant access to the required raw materials. This ensures that machines keep humming, reducing downtime and minimizing disruptions. The ripple effect is undeniable: employees aren't bogged down by needless waiting, their morale remains high, and their focus remains sharp. When supply chain processes align with workforce needs, productivity soars, and employees feel empowered to perform at their best.
Supply Chain Excellence: The Path to Workforce Empowerment
Embracing supply chain excellence isn't merely a logistical endeavor; it's an investment in workforce empowerment. When supply chain intricacies are finely tuned, employees aren't weighed down by inefficiencies. Instead, they're equipped with the resources they need, when they need them, enabling them to concentrate on adding value. It's a chain reaction of productivity: when employees feel supported, they channel their energies into achieving organizational goals. The efficiency and predictability of the supply chain translate into a more engaged and motivated workforce, ready to navigate challenges and seize opportunities.
Three things are necessary for a well managed supply-chain:
Operational Agility: An optimized supply chain enables rapid response to changing demands. With swift adjustments, employees receive the necessary materials even when faced with unforeseen shifts, ensuring that productivity remains steady.
Quality Assurance: A well-managed supply chain contributes to the delivery of consistent, high-quality resources. This reliability safeguards against disruptions due to subpar materials, fostering a continuous workflow.
Employee Morale: When employees can rely on the supply chain for timely resources, their morale receives a boost. High morale translates to improved focus, dedication, and a sense of ownership over their work.
The symphony of a well-optimized supply chain resonates far beyond the realm of inventory and logistics. It harmonizes with workforce productivity, elevating it to new heights. The interconnectedness is evident: when supply chain processes are streamlined, employees are equipped with the resources they need, unburdened by delays or uncertainties. This empowerment leads to heightened focus, engagement, and an unwavering commitment to achieving organizational objectives. Embracing supply chain excellence isn't just a business strategy; it's a pathway to unleashing the full potential of the workforce. As organizations journey towards a future of productivity, the integration of an optimized supply chain isn't a mere choice – it's a catalyst for workforce empowerment that propels both individuals and the organization forward.
What To Expect With RES
Our commitment to you is deeper than just providing a list of potential candidates. We are committed to designing and implementing the most effective staffing strategy for you. Here is what you can expect when you choose Resource Employment Solutions as your recruiting and staffing partner.

1. Account Assignment

2. In-Depth Discovery

3. Recruiting And Screening

4. Placement
When you connect with Resource Employment Solutions, you will be matched with an account management team who specializes in placing top talent within your industry. You will have a dedicated recruiter or recruiting team assigned and they will remain your point of contact to understand your business and address all your staffing needs.
Connecting Top Employers And Top Talent
Sustainable, productive, and adaptable workforces are catalyzed when employers and talent connect across a spectrum of compatibility. Resource Employment Solutions prioritizes this compatibility to match the nation's top employers, small and large, with the best people to get the job done. Find your employment solution with RES today.