Robotics Reskilling and Upskilling: Nurturing a Future-Ready Workforce Through Lifelong Learning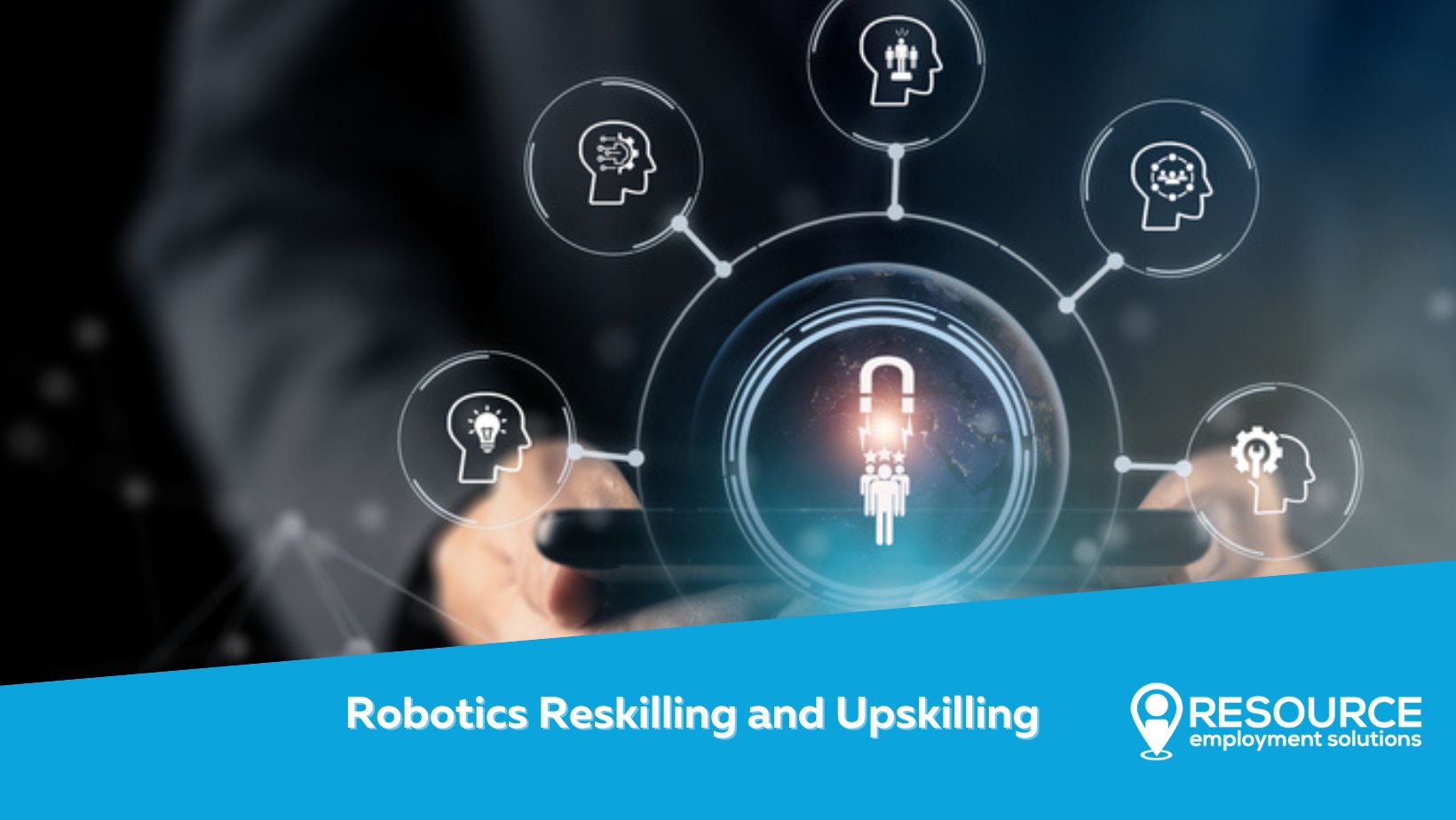 Discover how robotics is not only changing the workforce landscape but also offering unprecedented opportunities for reskilling and upskilling. As automation takes over routine tasks, companies are realizing the potential to invest in training programs that equip employees with the skills to operate and maintain robotic systems. This synergy between human creativity and robotic precision highlights the importance of lifelong learning in creating a future-ready workforce. The blog delves into the concept of reskilling, where employees transition into roles that leverage their innate talents alongside robotic collaboration. Additionally, upskilling is explored, emphasizing the need to enhance existing skills to effectively manage advanced technologies. Lifelong learning emerges as the cornerstone, with individuals and organizations encouraged to embrace continuous learning to thrive in an ever-evolving job market. Discover how this human-robot partnership can pave the way for innovation and resilience in the face of technological transformations.
In the fast-paced world of technology, where automation and robotics are revolutionizing industries, the concept of work is evolving at an unprecedented pace. As automation takes over mundane and repetitive tasks, there emerges a new paradigm that emphasizes the importance of reskilling and upskilling to keep up with the changing landscape. Robotics, once seen as a potential threat to human employment, is now proving to be a catalyst for empowering the workforce through reskilling and upskilling initiatives. This symbiotic relationship between humans and robots underscores the necessity for lifelong learning to ensure a future-ready workforce.
The Rise of Robotic Collaboration:
As robots and automation become an integral part of various industries, their role is shifting from mere tools to collaborative partners. While robots excel at tasks requiring precision, speed, and consistency, humans possess creativity, adaptability, and complex problem-solving abilities that are difficult to replicate in machines. This synergy has paved the way for a new era of human-robot collaboration, leading to the need for a skilled workforce that can seamlessly operate and manage robotic systems.
Reskilling for the Future:
The advent of robotics doesn't necessarily spell doom for traditional job roles. Instead, it presents an opportunity for employees to transition into roles that leverage their uniquely human skills. Companies are recognizing the importance of reskilling, where employees are provided with the necessary training to embrace new responsibilities. For instance, an assembly line worker might transition to becoming a robotics technician responsible for programming, maintaining, and troubleshooting robotic systems. By investing in reskilling programs, companies can not only retain experienced employees but also build a more versatile and adaptable workforce.
Upskilling to Embrace Complexity:
While reskilling focuses on transitioning to new roles, upskilling is all about enhancing existing skills to align with the demands of technological advancements. With robotics and automation systems becoming increasingly sophisticated, employees need to upskill to master the intricacies of managing these technologies. Engineers, for instance, might need to learn how to program advanced algorithms for robotic control, while managers may need to develop a deep understanding of AI-powered analytics to make informed decisions. Upskilling ensures that employees remain relevant in an ever-evolving job market and contribute effectively to the integration of robotic systems.
Lifelong Learning as a Cornerstone:
In this dynamic landscape, the concept of education doesn't end with formal degrees. Lifelong learning has become a cornerstone of personal and professional growth. Individuals must embrace the mindset of continuous learning to adapt to emerging technologies and stay ahead in their careers. For companies, this means fostering a culture of learning by providing resources, mentorship, and opportunities for further education. As robots continue to evolve and new technologies emerge, the ability to learn and adapt will be a vital skill for maintaining job security and professional development.
Future-Proofing the Workforce:
The collaboration between humans and robots is not just about productivity gains; it's about building a resilient and future-ready workforce. Companies that invest in reskilling and upskilling initiatives create an environment where employees are empowered to explore new horizons. Such companies are better equipped to navigate the uncertainties of technological disruption, as they can tap into the diverse skills of their workforce to seize emerging opportunities.
The rise of robotics presents a transformative opportunity for reskilling and upskilling. As automation takes over certain tasks, companies have the chance to invest in training programs that prepare employees for roles that require human ingenuity and technical expertise. The key lies in embracing the concept of lifelong learning, which ensures that individuals and organizations remain agile and adaptable in the face of technological advancements. By nurturing a future-ready workforce, we can unlock the true potential of human-robot collaboration and usher in an era of innovation and growth.
What To Expect With RES
Our commitment to you is deeper than just providing a list of potential candidates. We are committed to designing and implementing the most effective staffing strategy for you. Here is what you can expect when you choose Resource Employment Solutions as your recruiting and staffing partner.

1. Account Assignment

2. In-Depth Discovery

3. Recruiting And Screening

4. Placement
When you connect with Resource Employment Solutions, you will be matched with an account management team who specializes in placing top talent within your industry. You will have a dedicated recruiter or recruiting team assigned and they will remain your point of contact to understand your business and address all your staffing needs.
Connecting Top Employers And Top Talent
Sustainable, productive, and adaptable workforces are catalyzed when employers and talent connect across a spectrum of compatibility. Resource Employment Solutions prioritizes this compatibility to match the nation's top employers, small and large, with the best people to get the job done. Find your employment solution with RES today.