The AI Revolution: Optimizing Human Capital for Business Success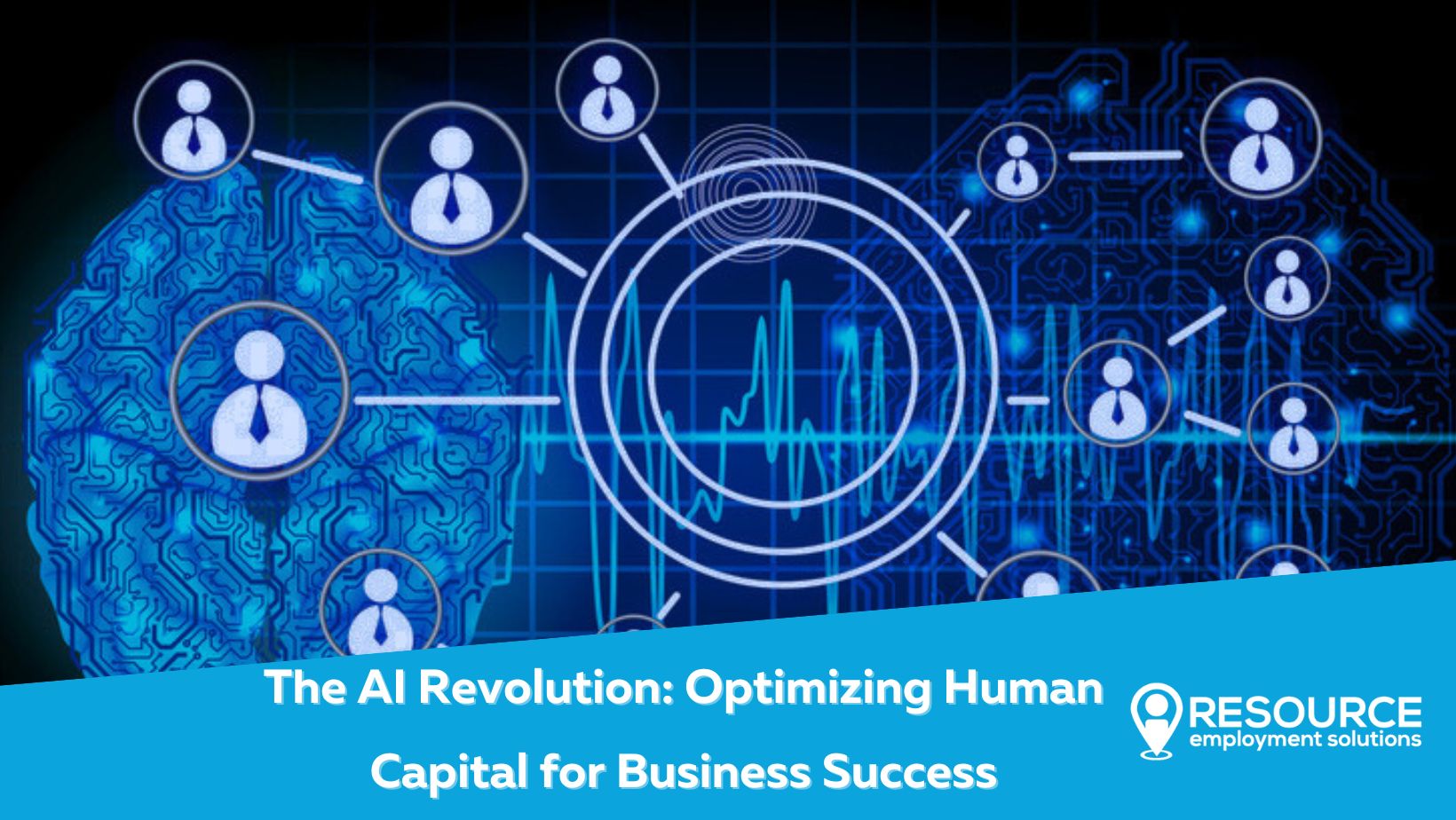 In this blog, we explore how AI is revolutionizing human capital optimization. AI-powered solutions streamline hiring processes by efficiently analyzing resumes and engaging with candidates. It enables businesses to identify top talent beyond resumes through advanced analytics and predictive capabilities, leading to diverse and high-performing teams. Moreover, AI-driven data insights empower companies to make informed decisions, align employee strengths with strategic goals, and forecast future talent needs. The symbiotic relationship between AI and human capital is propelling organizations towards unparalleled success, creating engaged workforces, reduced turnover, and increased productivity. Embracing AI in recruitment and HR practices allows companies to tap into the full potential of talent, ensuring competitiveness and growth in the dynamic business landscape.
In the rapidly evolving landscape of business, artificial intelligence (AI) has emerged as a transformative force, revolutionizing the way companies optimize their human capital. By harnessing the power of AI, organizations can streamline their hiring processes, efficiently identify top talent, and make data-driven decisions to achieve unparalleled business success. This blog explores the impact of AI on human capital optimization, shedding light on how it empowers companies to stay competitive and thrive in the ever-changing marketplace.
Streamlining Hiring Processes
Traditionally, hiring new talent has been a cumbersome and time-consuming task for companies. The process involves sifting through hundreds of resumes, conducting multiple interviews, and evaluating potential candidates. However, with AI-powered solutions, this arduous process is revolutionized. AI algorithms can quickly analyze resumes, identifying relevant skills and experience to shortlist the most promising candidates. Additionally, AI-powered chatbots can engage with applicants, answering frequently asked questions and scheduling interviews, thereby expediting the hiring cycle. By automating these mundane tasks, HR teams can focus on higher-value activities, such as building candidate relationships and creating a positive candidate experience.
Efficiently Identifying Top Talent
Identifying top talent is critical for businesses seeking to gain a competitive edge. AI brings to the table advanced analytics and predictive capabilities that enable companies to assess candidates beyond their resumes. By analyzing various data points, including online presence, social media activities, and work-related projects, AI can provide a holistic view of a candidate's skills, potential, and cultural fit. This data-driven approach significantly reduces the risk of making a bad hire and allows companies to find candidates who possess the specific attributes required for success in their roles. Consequently, organizations can build robust, diverse, and high-performing teams, driving innovation and productivity.
Making Data-Driven Decisions for Business Success
AI empowers companies to leverage vast amounts of data to make informed decisions about their human capital. Through AI-driven analytics, organizations can gain valuable insights into employee performance, engagement levels, and skill gaps. This information can help HR and management identify areas of improvement, design personalized training programs, and align employees' strengths with the company's strategic goals. Furthermore, AI's predictive capabilities can forecast future talent needs, enabling businesses to proactively address workforce requirements and avoid potential skill shortages. By embracing data-driven decision-making, companies can create a dynamic, adaptable, and resilient workforce, staying ahead in today's rapidly changing business landscape.
The AI revolution has brought about a paradigm shift in the way companies optimize their human capital. Embracing AI-powered solutions, businesses can streamline their hiring processes, efficiently identify top talent, and make data-driven decisions that propel them toward unparalleled success. The benefits of AI in human capital optimization extend beyond efficiency gains, leading to a more engaged workforce, reduced turnover, and increased productivity. As technology continues to advance, the symbiotic relationship between AI and human capital will continue to strengthen, making it imperative for organizations to embrace this transformative force and shape a future where innovation and business success thrive hand in hand.
What To Expect With RES
Our commitment to you is deeper than just providing a list of potential candidates. We are committed to designing and implementing the most effective staffing strategy for you. Here is what you can expect when you choose Resource Employment Solutions as your recruiting and staffing partner.

1. Account Assignment

2. In-Depth Discovery

3. Recruiting And Screening

4. Placement
When you connect with Resource Employment Solutions, you will be matched with an account management team who specializes in placing top talent within your industry. You will have a dedicated recruiter or recruiting team assigned and they will remain your point of contact to understand your business and address all your staffing needs.
Connecting Top Employers And Top Talent
Sustainable, productive, and adaptable workforces are catalyzed when employers and talent connect across a spectrum of compatibility. Resource Employment Solutions prioritizes this compatibility to match the nation's top employers, small and large, with the best people to get the job done. Find your employment solution with RES today.